Single, powerful IPTV box to power all your hospitality TV's through your buildings existing coaxial cable wiring

80 HD TV channels per CipherTV QAM device
Serves all hotel TV's through their COAX tuner
Low power, connect to internet via ethernet port
Single small device, simple plug-and-play install
Powerful IPTV Broadcasting System
Install CipherTV QAM hardware into your telecommunications room to provide TV to your entire building. The device plugs directly into your coaxial cable infrastructure, and each TV picks up signals by connecting to their individual wall jack. Each CipherTV QAM device can provide 80 HD channels to all TV's within your building. CipherTV QAM is easy to install and required low power and 3Mbps internet per channel.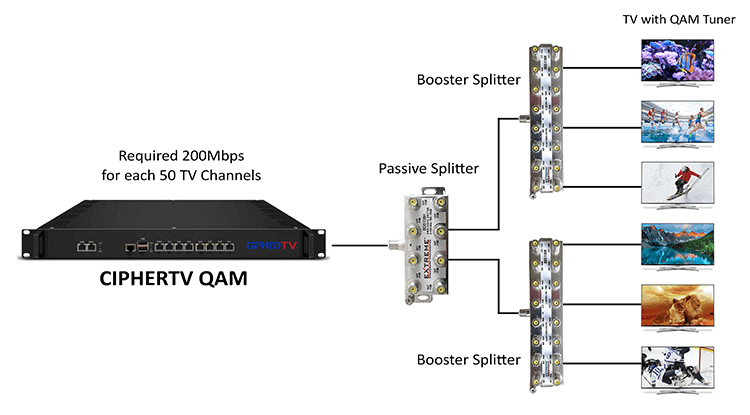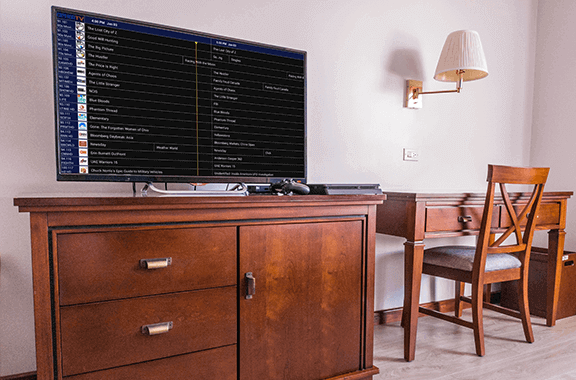 Supports 80 HD Channels from a Single Box
Each CipherTV QAM box supports up to 80 HD channels without requiring expensive and bulky satellite hardware, encoders or set-top bxes. CipherTV is a CRTC licensed broadcaster in Canada, with access to over 250 local and premium TV channels. Connect multiple CipherTV QAM devices together to access our full suite of channels with in your environment.
Currently CipherTV QAM is available throughout BC and Alberta, other provinces coming soon.
Set-top box for Optional Video-on-Demand
For hotel guests that enjoy watching movies on demand, simply carry a few CipherTV set-top boxes to plugin on a room basis for full features and access to video-on-demand movie titles and live TV replay. The CipherTV bar requires in-room internet access and standalone subscription to Hollywood Suite for on-demand movies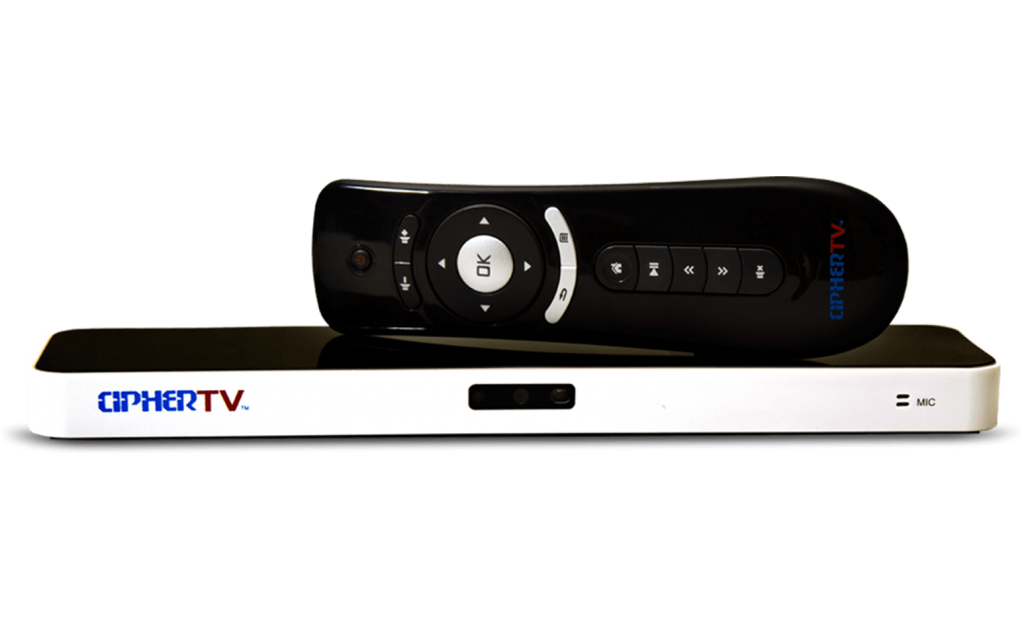 CiperTV QAM is fully warrantied, remotely managed and supported through CipherTV's broadcasting centre in Vancouver, BC
Work directly with a CipherTV Network partner for local hotel internet & TV service, pricing and installation support
How many channels can a single CipherTV QAM support?
Each CipherTV QAM hardware can support 80 HD channels. We can chain multiple devices for additional channel requirements.

How many rooms can each CipherTV QAM support?
One CipherTV QAM hardware can service your entire hotel through its COAX cable plant. Theoretically there is no limit to the number of rooms as long as the building's existing Coaxial Cable is RF balanced to support reaching all the rooms.

How much internet bandwidth is required for the CipherTV QAM?
Each channel requires a dedicated 3Mbps connection, so if 50 channels, you would require 150Mbps dedicated to support the hotel TV service.

How are TV's connected to CipherTV QAM?
Each room's TV is plugged directly into the Coaxial Cable jack, and then tuned to receive signals. The TV remote is used to switch channels.

What type of hotel TV's are required?
Nearly all TV's support QAM through their Coaxial Cable tuner. Today's standard supported is J.83 Annex B, which should be outlined on the back of your TV sets.

Can CipherTV QAM support older standard TV's?
No, CipherTV QAM supports the current J.83 Annex B standard. The previous ANSI-SCTE-07-2013 standard can be supported with an additional piece of equipment that supports this older standard

How do guests access the TV Channel guide?
There is a scrolling channel guide on one of the CipherTV QAM channels that shows each channel and upcoming shows.

Can guests access video-on-demand movies?
Our video-on-demand channels are only available if guests are using the CipherTV Set-top Box. Hotels can carry CipherTV Set-top Boxes in addition to the CipherTV QAM to offer select guests VOD access.

Other CipherTV Hotel Scenarios
In addition to providing hotels with a reliable TV option, our TV service and system can also be configured to serve other types of commercial use cases. Our TV technology not only can broadcast over IP or COAX, but can also provide customers an ability to broadcast their own live channel or video-on-demand content to their community users. Contact us for custom commercial TV solutions for:
Remote work camps
Hospital, long term care homes, prisons
Bulk condominium TV
Indigenious community TV
Internet service provider TV reseller
Connectivity Options
Our CipherTV Hotel service is available and runs optimal for all (AEBC, CipherTV, CipherKey) network customers. We can provide commercial fiber access, or bonded carrier cable / DSL access to your building for quality, high uptime service.
For buildings that are not connected to our network, or that do not have network capacity, we can provide a small satellite head-end installation. This installation would require a minimum of 2 satellite dishes on the roof and as many receivers as needed to receive your selected TV channels. The satellite system operates on its own, and would not be affected by any internet connection issues.