Adrienne Shelly's Waitress holds a lot of appeal for those with a sweet tooth. From its opening credits with close-ups on meticulously crafted homemade pies (mounds of shiny, glass-like red cherry baubles; bountiful overflows of butterscotch; rivers of luxurious melted chocolate all encircled in buttery pastry protective rings and lattice buttresses), Waitress may seem like a sickly-sweet romantic comedy. But like the pies that are the creation of the film's lead, the titular deep south small-town waitress played by Keri Russell, much more lies beneath the seemingly pleasantness and possible triteness of Waitress. Yes, it's a romantic comedy of sorts (one transformed into a hit musical in 2015) and it offers a bundle of laughs and quirkiness, while also providing a realistic portrayal of spousal abuse, of psychological trauma, and the claustrophobia of women with few financial or educational options. It's a magic trick that Shelly pulls off – the perfectly balanced recipe of bitter and sweet. The film was a huge success upon its premiere at the Sundance Film Festival in 2007 and its subsequent theatrical release. And like some of the harsh realities that Shelly portrays in the film, Shelly was never able to enjoy the film's victory, having died just a few months prior.
Jenna Hunterson (Russell) is an unhappily married, unhappily pregnant diner waitress with a remarkable talent for making "biblically good" pies. Looking to escape her abusive husband (Jeremy Sisto), she attempts to enter a pie-baking contest that would provide a $25,000 cash prize. With her husband's control increasing as he becomes jealous of their upcoming baby, she finds romantic solace in an affair with her married obstetrician played by a dreamingly-befuddled Nathan Fillion. Meanwhile, she helps aid the romantic lives of her compatriot waitresses and best friends, Dawn (played by director Adrienne Shelly) and Becky (Cheryl Hines of "Curb Your Enthusiasm"). Jenna's potential for happiness and freedom lies in her pies, which she creatively names with odd but personally relevant titles, such as "Bad Baby pie" (a quiche with eggs, brie, and a smoked ham centre); "I Hate My Husband pie" (bittersweet chocolate made into a pudding and drowned in caramel); "Baby Screaming its Head Off in the Middle of the Night and Ruining my Life pie" (which is technically a cheesecake, brandy-brushed with pecans and nutmeg); and "I Can't Have an Affair Because it's Wrong (and I Don't Want [my husband] to Kill Me pie)" (another cheesecake of marbled chocolate).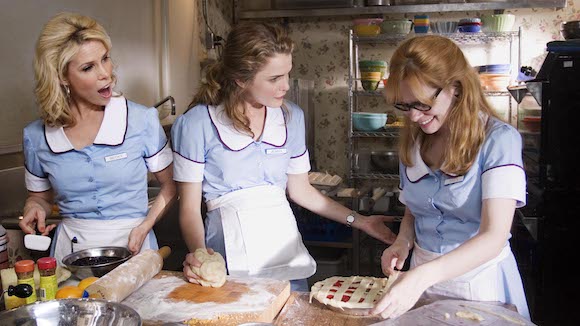 In depicting Jenna's isolation and search for independence, Waitress mimics such classics as Martin Scorsese's Alice Doesn't Live Here Anymore (1974), and its television spin-off sitcom Alice (1976-1985), as well as the Garry Marshall's romantic comedy Frankie and Johnny, starring Al Pacino and Michelle Pfeiffer (1991). Like those works, Waitress ends happily (thankfully). It's a happy ending that is more than earned – Shelly's ability to weave whimsy and tongue-in-cheek playfulness with feminist social issues, as well as the fears and anxieties of expectant mothers makes it singular in many ways (Shelly had welcomed her first and only child in 2003). Shelly's absence at the film's Sundance premiere was tragically felt. The film was introduced by the film's producer and Shelly's husband Andy Ostroy, who found it difficult explaining their profound loss at a time that should have been a triumph for Shelly.
Her murder, which occurred on November 1, 2006, just three months shy of the film's acceptance to the Sundance film festival, made headlines all over the world. Prior to Waitress, Shelly was an actress well noted for her work with director Hal Hartley ­– with her appearances in his The Unbelievable Truth (1989) and its follow-up Trust (1990), she became a bona fide American-indie darling. She transitioned to directing in 1994 with Sudden Manhattan and 1999's I'll Take You There starring Ally Sheedy, taking time thereafter to write and develop Waitress. Working out of her studio office in Greenwich Village, Shelly was murdered by a construction worker employed to conduct some renovations on the building. According to his confession (although he would change his story several times), he followed Shelly back to her studio after she had complained about some noise he was making. He attacked, rendering her unconscious and staged it as a suicide by hanging her from a shower rod. She was found by her husband later that day having died from neck compression.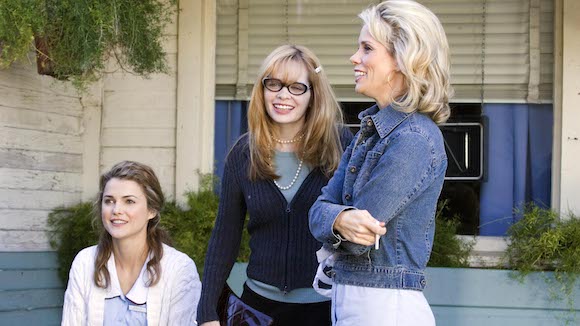 The media first reported her death as a suicide, as that was how it was initially announced by investigating officers. It was her husband's insistence that Shelly would never take her own life – not as a mother of a young child, nor at a time when she was readying her beloved film that allowed for further investigation, revealing the footprint in the bathroom that led to the murderer's confession. Diego Pillco is serving a 25-year sentence without parole for first-degree manslaughter. It is a tragic coincidence that Shelly, having made a film that dealt with violence against women, would become a victim of it herself. Shelly's legacy lives on through numerous charities. The "Adrienne Shelly Award" is awarded annually by the Women Film Critics Circle to a film that "most passionately opposes violence against women," and the Adrienne Shelly Foundation, which was founded by Shelly's husband awards scholarships, production grants, finishing funds, and living stipends to emerging filmmakers. But ultimately, Waitress is her greatest legacy – a film that speaks to Shelly's independent voice and advocacy for women and victims of abuse.
In 2017, the official Waitress pie cookbook was published to much fanfare and admiration from pastry chefs, both professional and amateur. All Jenna's weird pies – ones that represented her isolation in a loveless, abusive marriage, as well as the ones that signalled her hope and perseverance ("Falling in Love Chocolate Cream Pie" for instance), are a testament to Shelly's innovative imagination to tell difficult truths. The recipe book is a badge of honour, indicating that a decade after the film was first released, and just shortly after the Waitress musical premiered, Shelly's film was on its way to becoming a classic. There is no doubt in watching Waitress that Shelly would have gone on to a fulfilling career as a director had she been allowed. Watching Waitress is a reminder of the treasures that Shelly left behind, including her daughter Sophie, who makes an appearance as Jenna's daughter in the closing credits.